Blundering into the future!
Well, as I said the Blossies were finished as a band but we were to play together, one more time in the recording studio contributing to Julie Driscoll's first solo album, "Jools 1969" for again, the Marmalade label, Julie had left the Trinity (Brian Auger's band) and was out on her own, a bit like us, must have been something we'd all eaten around that time!
Julie was at the time 'going out'with a jazz pianist/ composer, Keith Tippett (he would become her better half- oh- husband to non Brits!) who was pretty involved in '1969' with his own band, all jazzers but not old school, young guys like us but from a totally different musical environment.
It stunned me at the time to find that there were musicians of my generation playing acoustic instruments that could make a shit load more noise than I could and then, (almost), bring it all together at the drop of a hat !
Improvising!! The door was opened and I saw the view. It would affect me forever in my approach to performing in the years to come.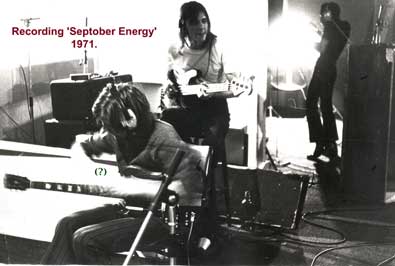 Still, first things first, me and Big B and Kevin got the opportunity to get back together in the studio again courtesy of a friend named Peter Swales who had worked with the Marmalade team but had moved on to work with the Rolling Stones organisation and in the process, managed to blag a load of money from them to set up his own company, Sahara music!!! A mate of Kevin Westlake from Wales and a Blossies fan, he invited us to make an album for the company and hence B B Blunder was born!
The name came along well into the recording and, in fact, was prompted by a tape opp'(engineer) writing it on a tape box after a particularly fruitless session, Brian & Brian Blunder tape!!! After we had dropped him off at A&E we thought, BB Blunder? that'll do nicely! (apparently he,s okay now but has a slight limp!) After all the Blossies disappointments this was again to be another turning point for me musically and a very exciting time in the studio.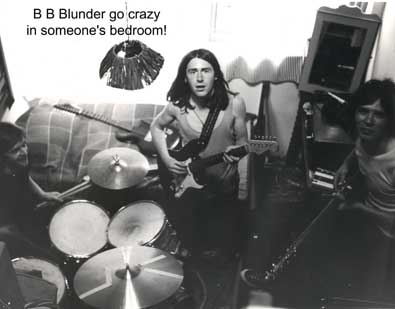 Sixteen track recording was now well and truly available which was a Godsend but some 'pilock' invented the 'Dolby' noise reduction system which was a disaster!! Great Idea, remove the hiss from quite passages but not effect the fidelity of the overall recording. Did it work? Does anybody use it now? NO!! I press up all the Blunder CDs now from the original tapes with the Dolby well and truly OFF and stuff the hiss! you've got a rock band back!
So we ended up with "Worker's Playtime", my personal favorite from the period for many reasons. As far as I'm concerned, it contains some of the best songs I had written and the musical Ideas and instrumentation pointed the way to the future for me.
I was very disappointed with the reaction to this album and decided to knock song writing on the head and concentrate on gtr playing and MUSIC from then on.
Blunder did a fair amount of gigging around the UK and even had Reggie King from the Action as a front man for a while but it wasn't really going anywhere and so many other things were beginning to take shape around us so we sort of, drifted off in different directions. Me into the Jazz-rock world, Kevin and Big B into Ronnie Lane's 'Slim Chance' and Reggie into the local nut house!!