The music so far
'Sixteen tons and what do you get, another day older and deeper in debt', Tennessee Ernie Ford! The first record I ever bought to play on a windup gramophone I found in a rubbish dump (or bomb site as they were known in the mid 50's).
A bit of a protest song by any stretch of the imagination, which has probably had a big part to play in the way I've approached music and life ever since!
Apart from some early attempts at copying George Formby on the Ukelele when I was about ten years old, I had little to do with music until I had reached the ripe old age of 18. I was far to preoccupied, racing bicycles, climbing mountains and generally being an extreme outdoor type!
It was whilst serving an apprenticeship in a scientific instrument making firm that I met a lad named, Alan Kensley, who played the guitar, and seemed to get lots of admiring looks from the girls in the factory. So, byby bike, hello guitar!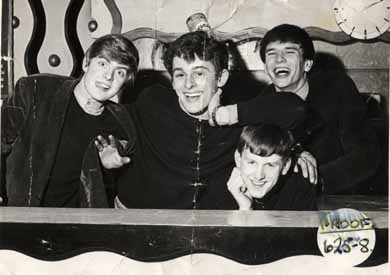 Along with fellow slave in the workhouse, Brian Belshaw, (who gave a gripping rendition of Screaming Lord Such's, Jack the Ripper) we formed a band quaintly named, 'The Gravediggers' and set about learning to play. Alan could play a bit already, well, he could play tunes, but didn't know any cords! So my job was clearly to become Bruce Welch and provide something for him to play his tunes over! As painful experience as I can remember, learning to play chords that is, blisters, blood and cramps, but I can still recall the shear joy of playing a very tatty but recognizable version of 'This Wonderful Land' by the Shadows, (GODS, pure, GODS!)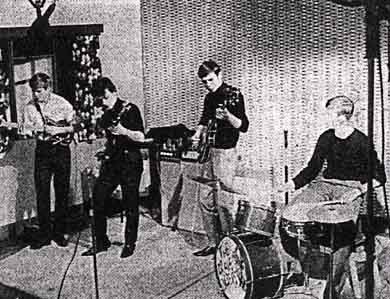 So in a nutshell, this was my introduction into being a musician, playing rhythm guitar and I'm really quite glad about that actually because if you've got no' rid dam', good night Josephine!
As we fumbled our way through the Shadow's and then of coarse, the Beatle's repertoires, we became, in a frighteningly short space of time, quite a mediocre semipro' group playing, pubs, youth clubs and the occasional works dance. None of this went down well at the workhouse as we were finding it increasing difficult to get up in the morning! A final confrontation with the slave drivers saw me and Big Bry (Belshaw) leave to become 'professional musicians'! So we were out of work and extremely happy! Alan mended his ways and stayed on to get married and things. Byby Alan, enter, Eddie Lynch on lead guitar, (a 'council house' blue Fender Strat, no less!) and a pile of songs we'd never heard before by people like, Bo Diddley, Howling Wolf, Jimmy Reid, and all those great rock and rollers like, Jerry Lee Lewis, Chuck Berry, and so on.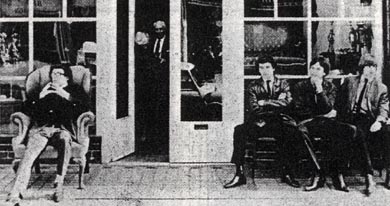 As a voice in my head had been saying to me for quite some time, "Stop copying the Beatles and do something original or different and maybe you wont sound so bad!" this was the perfect moment to change directions and become a ' Rhythm and Blues' combo!
We changed the name of the band to The Ingoes( a lesser known Chuck Berry song), changed the drummer to Colin Martin, ( Fred Love, god bless him, the original pan man, caught 'Alanitus' and went the same way) and we were ready to hoot!
Just to digress a little, Eddie and I struck up a songwriting partnership and ended up penning songs for Craig Douglas and more memorably, Michael Crawford ! His first single I believe, which got absolutely nowhere, but was great fun to be part of as he 'really' is a very nice fellow .
Anyway, back to the plot, we started to get gigs in and around London in the 'blues' pubs and clubs springing up like daisies, and I remember being grateful for my hours spent learning rhythm guitar as there's loads of chunka, chunka , chunka in rhythm and blues music and I found myself being quite good at it!
Being 'professional musicians' now we decided we must get a manager and the was really only one guy . This fellow was Giorgio Gomelsky who managed the Yardbirds and ran the Crawdaddy blues clubs in Richmond and Croydon. To cut a long story short, he told us to piss off and come back when we'd got ourselves together, so, armed with these words of wisdom, that's what we did!
I can't recall how but we got this gig in Germany (ABROAD!), in a dance type club in the town of Dortmund. This was where the learning curve became a vertical line! Half the clientele were the British army and the other half , German Rockers, and did these guys like to fight! Fear took on a new meaning, but it soon(thank God) became apparent that they weren't too bothered with us, they just hated each other and providing we played, 'Skinny Minny, and 'Johnny B Good' ad infinitum, we were relatively safe! We were playing six. 30 minute sets a night and after our three week stint, we played the meanest 'Route 66'you've ever heard! But probably the most educational part of that trip was meeting and hearing the various bands that basically lived and toured in Europe like gypsies playing the army bases and dance halls, these were real Pro's and it was clear for the first time to all of us, just how much work had to be done to bring the band up to their standard.
Oh, by the way, for the record, this was in the winter of 1964 (doesn't time fly when you're having fun!)
So back to the UK to get more gigs, better equipped than when we left and ready to face the dragon again (Giorgio that is!) The Gorgon was still unimpressed, but seeing our despair got his right hand man, Hamish Grimes, to fix us up with a little 'educational' work
backing the "legendary' Sunny Boy Williamson" on a few flea pit gigs in south London.
Sonny Boy liked a drink, thought he owned Walt Disney(?)
and wouldn't rehearse but had retained some auto sensory abilities to enable him to perform, (by the time we'd got lumbered with him) enough ' broomdusting' and 'woke up this morning' rants to get us out alive from the venues!
My first real experience of being a 'backing musician', and I didn't like it. I lost interest in the 'blues' after that little episode!
Well, , , , we carried on for a while playing the various clubs and venues in and around central London including the Marquee club in Wardour St where, one hot and sweaty night Giorgio suddenly realized what he was missing out on and and offered us a management deal!
"Take it or leave it" I seem to remember him saying! Seriously though, he took a new interest in the band from then on and we were soon playing in his legendary Crawdaddy R&B clubs! (the Richmond Rugby club's function room and the Star public house in Croydon). This was a really great little period in time for us as we were the warm-up band for the likes of the Yardbirds, the T Bones and other hot little combos whose names escape me now. But I remember the night ol' slowhand left the Yardbirds to instigate the second coming, he spoketh unto me and said, "I like your guitar case". I thanked him and was healed from that moment on. Oh and I've just remembered another band! the Moodyblues, they put the shits of Christ up everybody as they were so bloody good and, unlike many London outfits, were totally unfull of it (shit that is!) Grate band, grate fun!
Musically though this was a pretty weird time for me as I was writing protest songs for us,( all the rage my dear!) orchestral ballads for my, later to become sister in law, Julie Driscoll, pop songs for would be Australian rock Icons and all I really wanted was Steve Cropper's job in Booker T and the MG's!
Time to leave the country again!